23th Aug of 2019 Latest Updated:
Due to New Wechat Official Policy in July 2019. All Foreigners Have to Submit their Passport or Nation ID in alipay to Active their Wechat Wallet or Continue to use wechat Pay for the Old users who only Submitted Credit card to Active wallet.

Here is Step by Step to Teach you Active your Wechat Wallet

1. You can Order a test amount on https://www.yayaka.com/product/wechat-wallet-gift-card-wechat-game/ . if you still feel confuse whether you can use wechat you can order a test amount.

2. Then we will send Email to for Friend request. If no response within 30mins, Please contact email support@yayaka.com. Because sometimes due to your new wechat account suspicious activity and we got nothing notice from your adding.

3.after adding you as wechat Friend. We will send you a test amount transfer. Generally it will ask you identify verification Button and Go to this page which 身份证 Means Nation ID, 护照Means Passport. ignore the Others if you are not Chinese live oversea.

4.After your fill in the information and Confirm it is correct. It will guide to your Add new Card. Though it text it you have to upload chinese Bank card. But actually you can submit your Nation Credit Card. Visa, Mastercard or JCB are all acceptable. If you only have debit card, You try. I am not sure whether it is acceptable.

5. After you finish step 4, You can Recieve the transfer on PC wechat, Remember only Windows system wechat works. Macbook not works. But if you have only Macbook, or two phones in hand or one ipad or tablet. We can help as well. Under this situation, You can ask Jane or Wendy how to do about that and we will guide you.
There is no doubt that there are more and more people want to active their WeChat Wallet due to they have many friends and business in China. However, WeChat wallet is not active by default For foreigners especially without a China bank Card Verified or Chinese ID verified.
Many Foreigners would like to say May I ask a Chinese borrow me a bankcard or ID to verify their WeChat wallet? If you have a trustable Chinese Friend and he or She is willing to Borrow you, That is OK. Because every Chinese Can only Verify 5 WeChat Accounts at Most.
How to Active WeChat Wallet without China Mainland Bank Card for Foreigner?
The Answer is: Absolutely yes you can! Before Active your WeChat Wallet, You have to Prepare the following materials:

An Exist WeChat Account, Don't worry your WeChat account From China or Oversea, Both ok.
Your Own International Credit Card, VISA/MasterCard/JCB will work. But WeChat not accept all Country Cards, But most works.
Ask Yayaka Online Service (WeChat ID: topupchina)to Help to active your Wallet.
1.Place a WeChat Gift Card order on yayaka.com
Please an order here https://www.yayaka.com/product/wechat-wallet-gift-card-wechat-game/
and Select the WeChat Gift Card Amount you want to Buy. For Example 100yuan Cost $17.3 USD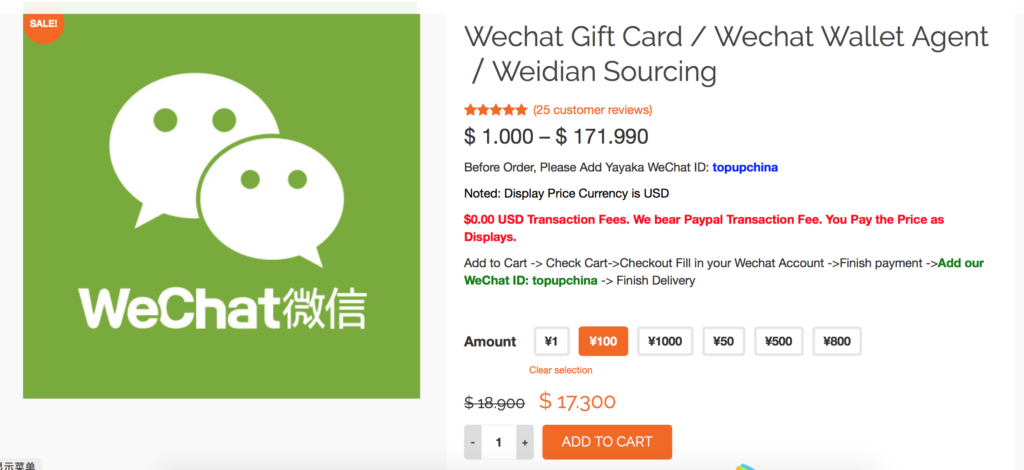 Finish the Payment with Paypal or Credit Card. Yayaka only accept Paypal payment method At present to guarantee it is Security Transaction For both Seller and Buyers.
2. We will Add you as Friend via Email Notice
3.Recieve the WeChat Gift Card
Jane will Guide you to Receive WeChat Gift Card on WeChat Chating Once Confirm your order is acceptable.
After you successful to Top up WeChat, You may Find there is no WeChat Wallet option at the Me Screen. No worry about that, It is just something like Web caches, It will Appear in about 24 hrs. Or you can delete the WeChat app and redownload and reinstall, There will appear instantly.